Congratulations, the soon-to-be mom! We bet that baby bump looks adorable. Your excitement over seeing the latest addition to your family is breathtaking. We wish you a safe delivery. We can understand how the joy of having a baby is one of the happiest feelings on this planet. While everyone throws baby showers, why don't you take the extra step and schedule maternity photography in Indore with a professional photographer in Indore? This will not only hype you up but will also make you appreciate your baby bump more!
Here are a few props you can include in your maternity photoshoot. Be sure to glance through all the items mentioned on this list. Maybe you can even combine two or more elements off the list and design your dream maternity photoshoot. Who knows?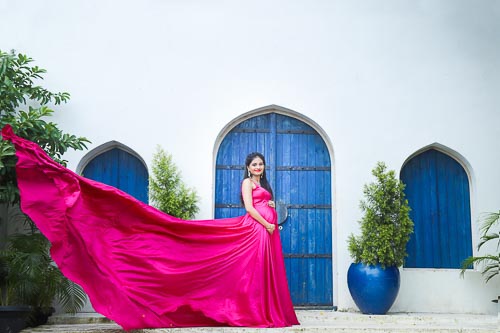 An unspoken rule is that flowy gowns are a sort of "unofficial uniform" for maternity photography. The material can range from lace to satin, and you would look just as gorgeous in any! Flowy gowns appear very flattering on all the to-be-moms by drawing attention to their absolutely adorable baby bumps. You can also choose to wear an oversized tee shirt or a maternity gown, but they won't be the same as a flowy gown.
Fluffy Toys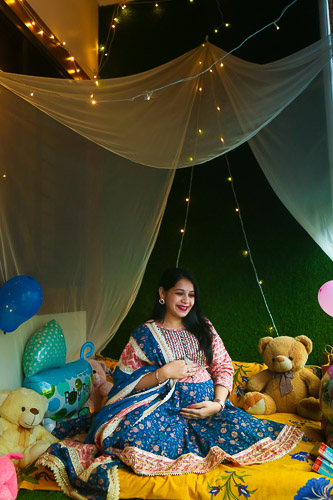 Once your baby is born, they are going to spend most of their time playing with the fluffy toys you buy for them. According to us, cute and fluffy toys for your baby will make all the people go "Aww!" once they see pictures from your maternity photoshoot. Maternity photoshoots with fluffy toys are a must and cannot be missed out on! To keep it gender-neutral, you can use colors like red, yellow, or green.
Blanket
We promise that the idea of using a blanket in your maternity photoshoot is not as bad as it sounds. In fact, now that we think about it, fluffy and warm blankets are not only budget-friendly and affordable but will add color to the frame. In addition, the soon-to-be mom will be extremely comfortable and warm throughout the maternity photoshoot. It's a win-win for all. Not such a bad idea, right?
Bubbles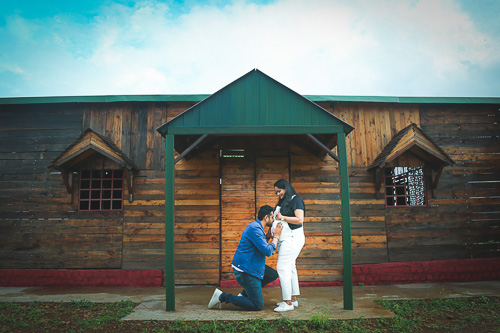 Bubbles can add life and excitement to any photo shoot. In addition, candid pictures of you playing with the bubbles will add so much joy to the maternity photoshoot. As a plus, bubbles are easily available, come in different colors, and are affordable.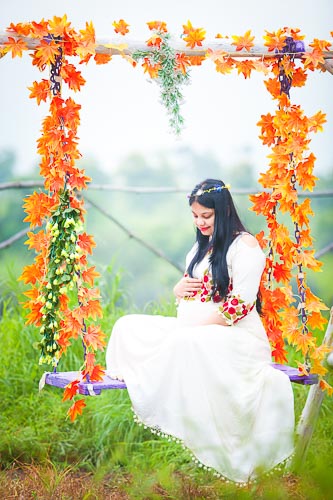 Who doesn't like to play with swings? The good news is that swings make really good maternity photoshoot props. You can color them, decorate them with a bunch of flowers and change their aesthetic. Not only will you have fun, but beautiful photographs will also come out in that process. Take care of your safety while mounting, riding, and dismounting.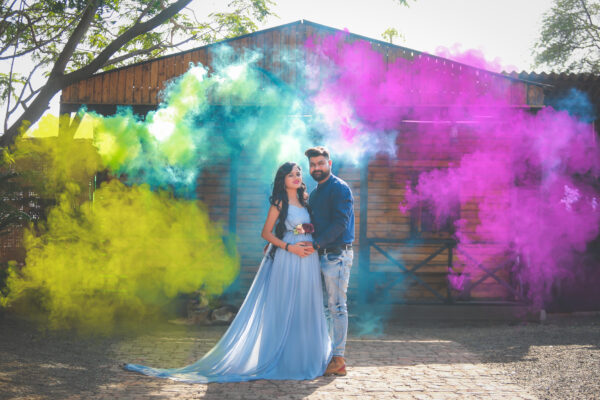 Colored bombs add a lot of color to the maternity photography and do absolutely no harm to your health. They won't spoil your gown, or whatever you choose to wear for your maternity photoshoot. You can also use color bombs of more than 1 color at a time and include those beautiful combinations in your photographs.
Floral Crown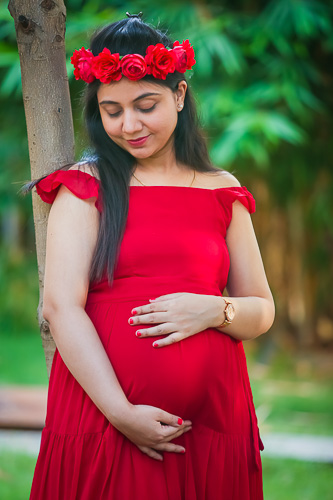 A crown with jewels or a flower crown can also be used as a prop for your maternity photography in Indore. It would bring out your inner queen. Especially, a crown with fresh and colorful flowers would make all the difference in the photograph. It would also go well with the flowy gown you choose to wear.
Endearing Ultrasound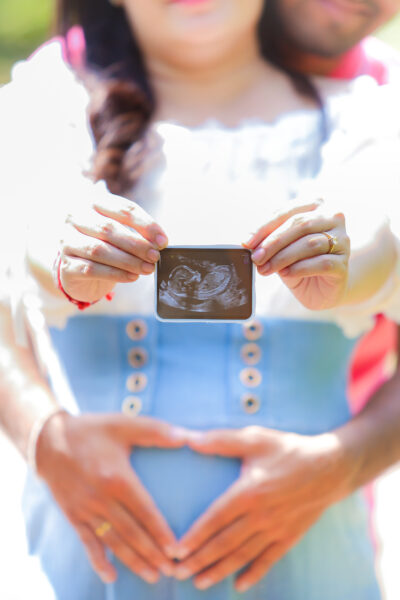 If the couple poses for the maternity photoshoot with the ultrasound photograph, that sequence gets to take the cake home. Nothing and absolutely nothing will be able to top the joy and the happiness the couple would feel as they hold the ultrasound. No caps, but that photograph is going to be the couple's favorite as well.
Baby Shoes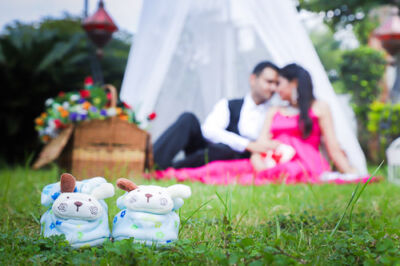 We're convinced that no matter what you do, you can't find a more adorable prop for a maternity photography in Indore than baby shoes. It will be twice as cuter if both the soon-to-be parents hold one shoe in one of their hands. Just like in fluffy toys, gender-neutral colors such as orange, yellow and green are preferable.
Colorful Balloons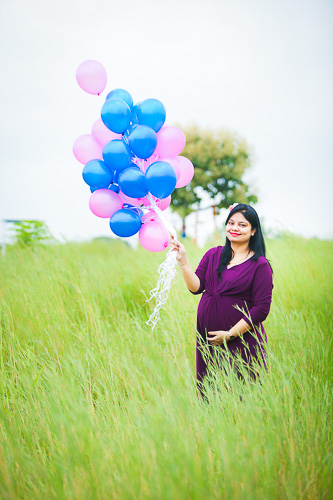 Colorful balloons are the life of any photoshoot if we're being honest here. You can color-code your outfit with the balloons as you look into the camera. Even better if you are able to find balloons with letters on them.
Story Books
A storybook is another uncommon, but very meaningful prop for your maternity photoshoot. They symbolize how you are ready to educate your child and inculcate all the right values in your baby and help them become a wonderful person once they grow up.
Trust us when we say that your pet would love to be a part of your maternity photography in Indore. It'll be a new experience for you as well as for them. They will love the attention and as a result, will love you even more. In addition, the photos of your complete family with the new member on their way will turn out to be even more beautiful and full of warmth.
Baby's Nursery
A great setting and prop for your maternity photoshoot would be your baby's nursery. You can display the baby's crib, blanket, toys, and the beautifully painted walls of their nursery to convey the welcoming vibe of their nursery.
We saved the best tip for the last! A milk bath would be a wonderful prop and it would feel as nice as it would be captured in the photograph. The milk bath can be decorated with exotic flowers and a fancy bathtub. This can also be done in the backyard or garden of the couple's home. A soon-to-be mom in a while flowy gown holding a bouquet of her favorite flowers would complete the photoshoot and seal the deal!
Conclusion
And just like that, we have reached the end of the list. Do let us know what your favorite props were. Don't be afraid to go off the list and indulge in your imagination as well. As a fact of the matter, you can also combine 2 or more prop ideas from the list and live your dream maternity photography in Indore.