If you can't figure out what to wear to your pre-wedding photoshoot in Indore, don't worry. We have got your back. Pre-wedding photoshoots are all about your story and your partner's story. The purpose of pre-wedding photoshoots pre-wedding photoshoot in Indore is to capture the chemistry between the soon-to-be-married couple. Be honest, be you. You can go casual or royal. Remember, nothing is right or wrong when it comes to pre-wedding photoshoots. It depends on you. This article has been written in order to help you choose what to wear to your pre-wedding photoshoot. Keep reading the article to get an idea of the various themes you and your partner can experience and try out for your pre-wedding photoshoot in Indore. We would suggest opting for a combination of the themes discussed for diversity.
Choose Solid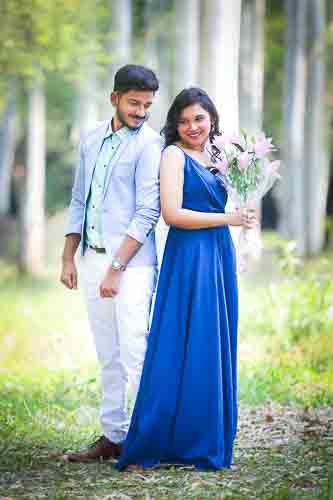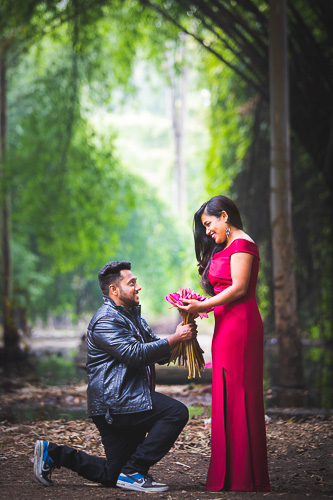 Our suggestion would be to go with the classic- solid colors. Nothing beats a red saree or a scarlet gown and a royal noir suit. We recommend solid fits because they will undoubtedly add depth to your pictures and create a sharp contrast. An additional tip to go about is to try and select various solid colors that suit you and then choose from various hues of the color you picked.
Gown Is The Way To Go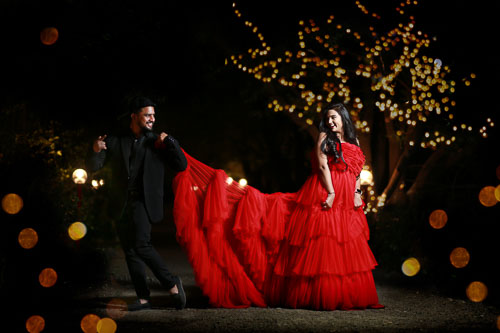 Along with sarees, gowns are a staple for wedding and pre-wedding photoshoots. The best thing about gowns is that you can never go wrong with them or grow tired of them. And the bonus point? You can experiment as much as you wish! You can choose from a maxi dress and a proper, heavy gown. Further, you can get creative with the pattern, color, and sleeves. In addition, they will never go out of fashion and will look elegant in the photographs.
Retro? Retro!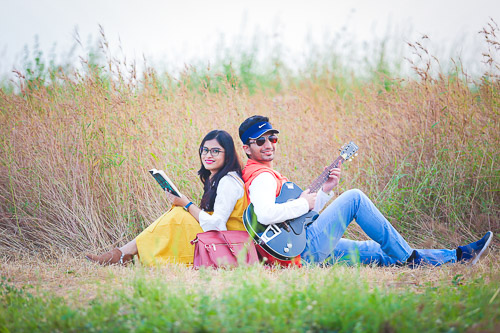 Don't we all have that one 90s Bollywood dream? It may or may not be dressing up like Salman Khan or Juhi Chawla. Guess what? You can finally live your dream! Men can don a classy tuxedo or evergreen bootcut jeans with suspenders. Women can style themselves with frilly frocks, sarees, or flared pants as well. If women want, they can wear suits or tuxedos as well. No woman can look bad in a tuxedo.
Don't You Know I'm A Royal?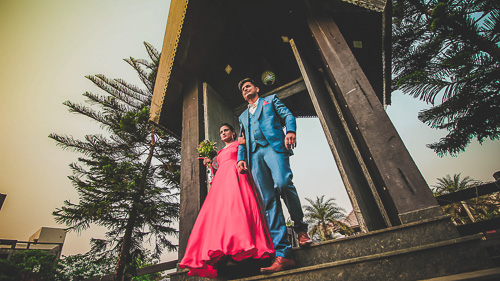 Royal-themed pre-wedding shoots can elevate the mood and are certainly better than normal ones. You know what we're talking about. Women become queens in gowns and sarees. It's more about the feel, really. At the same time, the right choice of a kurta or a tux can make a man a king. Want a bonus tip? Royal-themed pre-wedding shoots would look even better when done in the right setting. Consider palaces or forts to complete the theme and stray away from the regular choice of a garden.
Comfort Comes First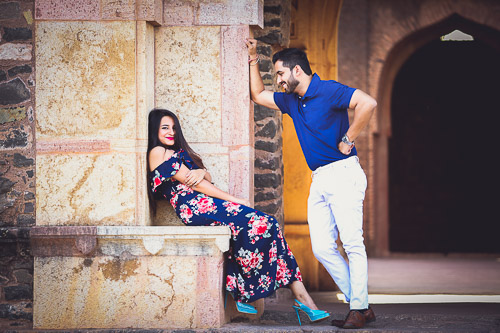 It's important to remember that these photoshoots are ultimately your pre-wedding photoshoots. Naturally, your comfort comes first. Yes, even before looking fashionable. Don't get too worked up in preparing for the photo shoot to the extent that you forget to have fun. Pre-wedding photoshoots happen only once in a lifetime (hopefully). Don't compare yourself to the seemingly perfect couples on social media. You don't even have to feel embarrassed. You do you. It's your life, after all. If you and your partner wish, you can have a comfy pre-wedding photoshoot (special emphasis on the comfy) and still be happy. No matter how impossible it seems, you can still rock in a pair of pajamas or blue jeans. Wouldn't that be cool?
Location Check before your pre-wedding shoot in Indore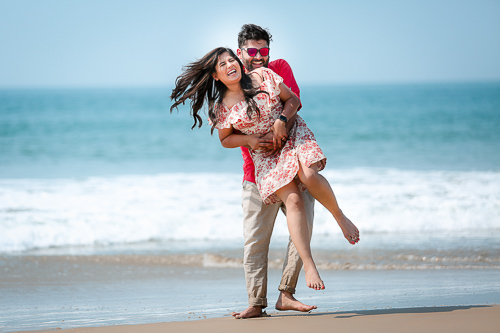 This one is essentially a bonus tip, but we'll still put it here (totally not to increase the word count. shhhh!) It is extremely important to make sure that your fits match with your location or else would be such a bummer! Imagine wearing a saree to a gym. Not very convincing, but you get the idea! We would like to make some suggestions here. You can wear sarees or gowns to a palace and it goes without saying. Now that we think about it, you can wear a saree almost anywhere. Even to swimming pools and deserts! Amazing, isn't it?
Go With The Flow (Of Your Saree)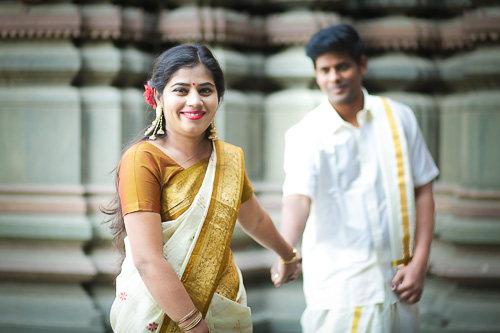 We can guarantee the fact that dresses that flow always enhance the pre-wedding photoshoot. Here, we're talking about sarees, pallus, dupattas, and lehengas here. You hit the bull's eye if you decide on a place and time when it's windy. Every time you and your partner look back at the photo shoot album, you'll be able to feel just how freely the refreshing breeze blew past you. It will enable you to relive just how exciting the day of your pre-wedding photoshoot in Indore was. How romantic!
Coordinate And Match before your pre-wedding shoot in Indore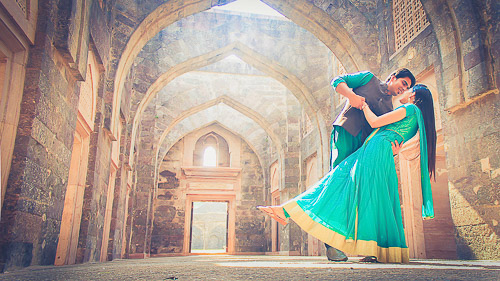 It's extremely important to not underestimate knowing what your partner is wearing to the pre-wedding photoshoot. Ideally, both of you should coordinate for the photoshoot and decide accordingly. We can only think of how disappointing it would be if you wear a pink saree and your partner wears green jeans. To prevent this from happening, make sure you have paired fits. And we don't know why, but most of the examples we give include the female wearing a saree.
The Classy And The Timeless Combos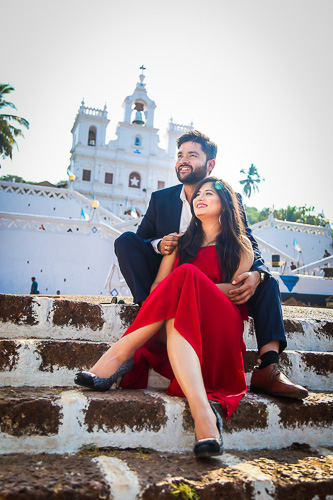 Here, we are talking about both- the outfit type and the outfit color. Allow us to elaborate. If you can't think of anything, we'll help you with the tedious task of choosing an outfit. Black with white, black with red, pure black, and pure white are some timeless color combinations that are still relevant and will always be.
And as for the outfit combinations, a tuxedo and a gown or a saree never disappoint. No matter what the color or the pattern, we know for a fact of a matter that you are absolutely going to rock it!
Wear Your Parent's Fits!
Wanna do even more? Talk to your parents and see if you can wear to your pre-wedding photoshoot what they wore to their wedding. Not only is this idea amazing, but it'll also make your parents happy. Maybe they'll share a story or two about their wedding.
Avoid Checks and Stripes in your pre-wedding shoot in Indore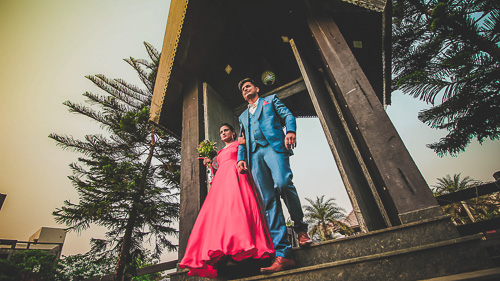 This is our last tip for the article. As the first tip suggested, choose solid colors and not any patterns because photos actually turn out better in plain and classy clothes without a pattern. Solid hues that complement each other will look much better than patterns that obstruct your natural body shape from appearing in the pre-wedding photoshoot in Indore.
Conclusion
This brings us to the end of this article. We hope this was helpful. We urge you to plan well in advance for your pre-wedding photoshoots so that you don't face any inconveniences. Don't forget to have fun. Happy pre-wedding photoshoots to you!