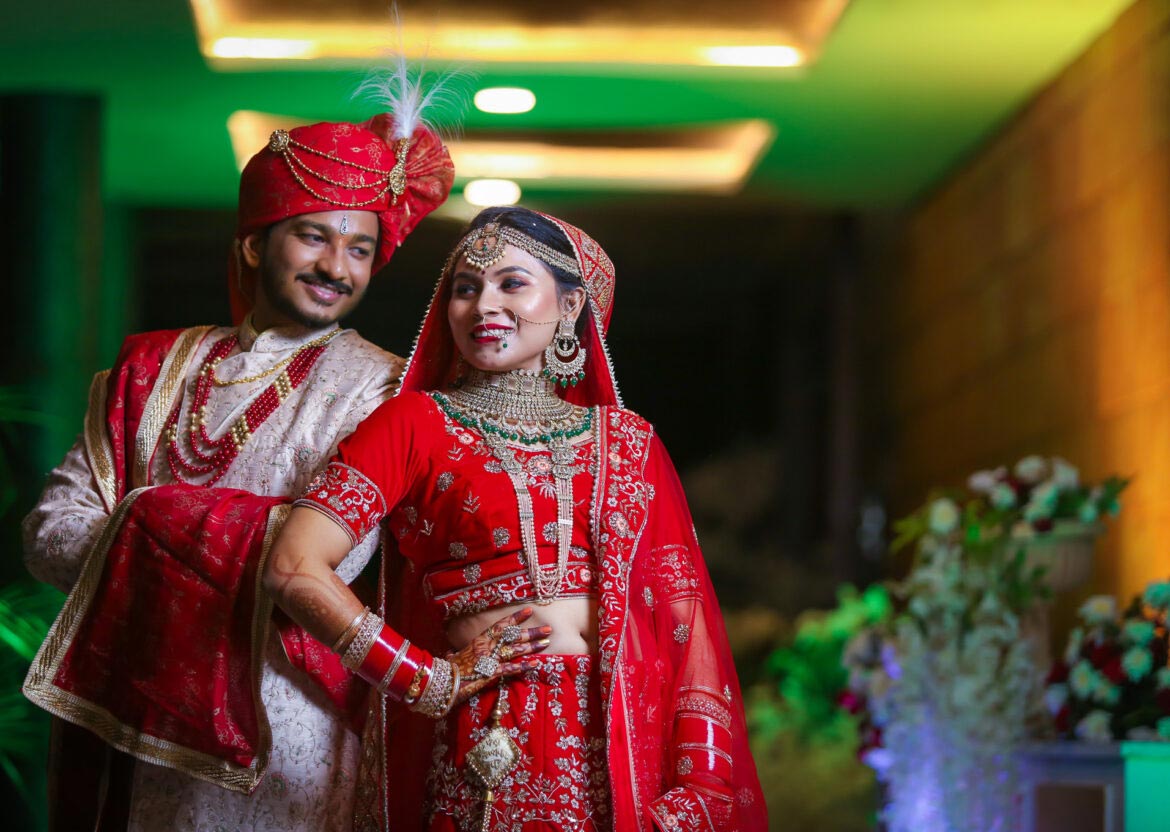 With the gruesome COVID-19 finally subsiding, beautiful brides and handsome bridegrooms are gearing up to return to the lavish pre-COVID wedding era. Now that weddings can be organized without any restrictions, wedding photography is the main focus for 2022. Wedding Photography is a great way to capture heartwarming moments in the present which can later be reminisced as beautiful memories of the past. Photography is the key element of any wedding which makes it memorable and interesting. Any wedding is incomplete without a few elegant clicks from a professional photographer. Here are 14 classy wedding photography trends in Indore for 2022 to spice up your wedding.
1. INSTAGRAM WORTHY WEDDINGS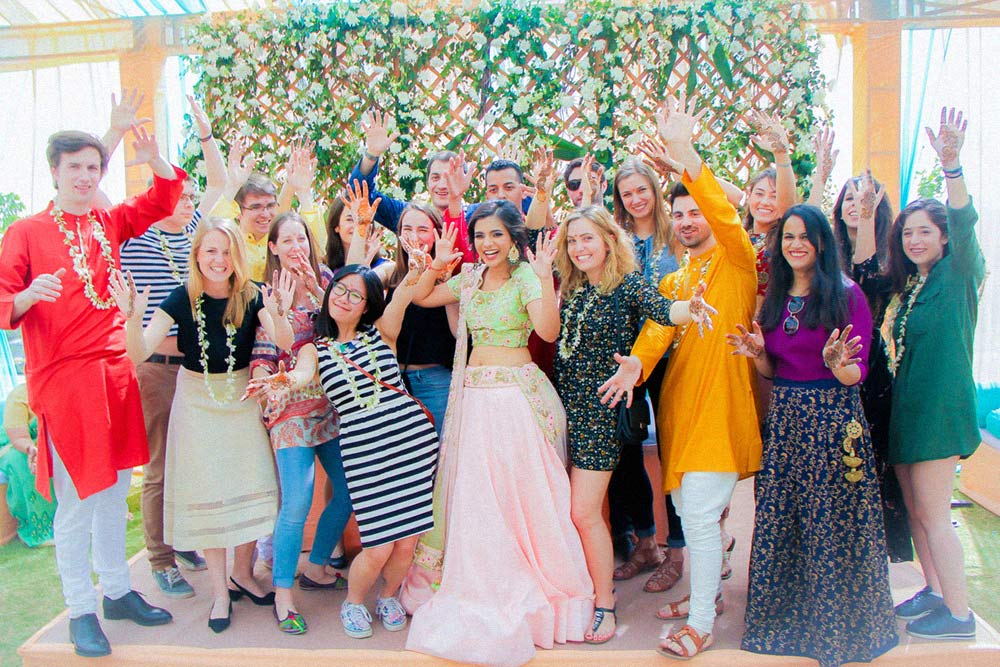 It goes without saying that today's generation is Instagram's generation. Be it our first try at Dalgona coffee (which was everyone's go-to during lockdown) or securing a job at a big firm, Instagram is always the first to be updated about any big (or small) achievement in our life. Now that Instagram is such a big part of our lives, any wedding would be incomplete without an album of Instagram-worthy pictures. For this, the bride and the bridegroom take pictures in color-coded outfits. Not only this, but they also make reels of their wedding ceremony and ask their guests to use a specific hashtag while posting pictures of the wedding on Instagram. Twirling wedding shots are very popular on Instagram and look pretty and it is the latest wedding photography trends in Indore.
2. CAPTURING PROPOSALS
A proposal is what leads to a wedding in the first place. A proposal is a special moment in which the bride or the bridegroom confesses their feelings and asks their significant other to be with them for the rest of their lives. This beautiful moment holds a special place in the hearts of both spouses. The trend in 2022 is to capture this lovely moment in a way as real as possible. This calls for candid photoshoots of the heartwarming proposal.
3. PRECIOUS PORTRAITS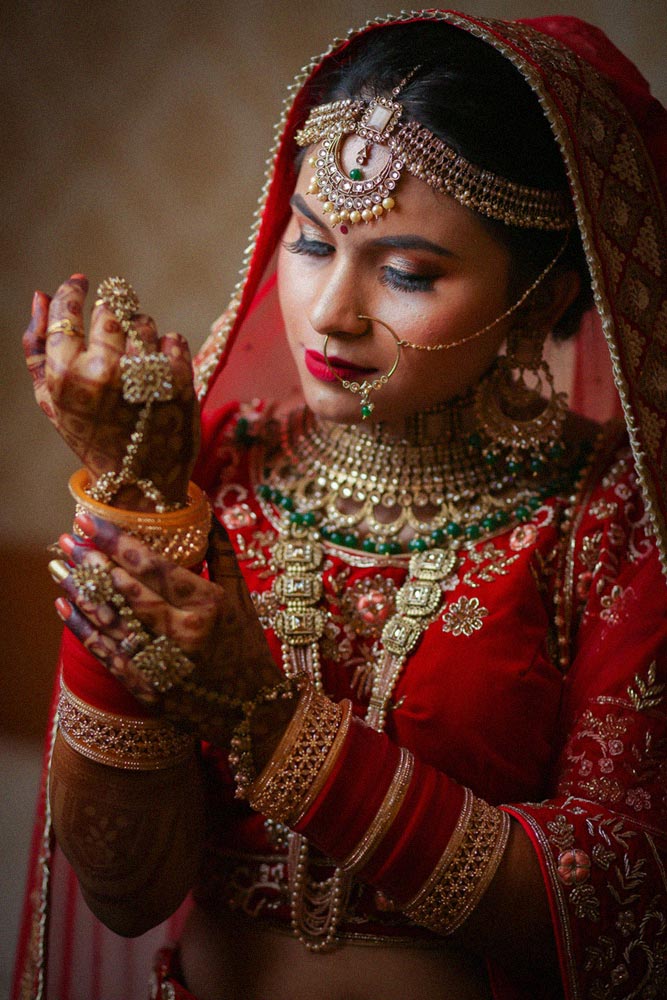 This wedding trend has existed for a long time and will continue to in 2022 too. Brides and bridegrooms pose elegantly for their photo portraits. Brides and bridegrooms like individual portraits but couple portraits are especially popular in 2022 weddings. The portraits will later function as testimonials and beautiful memories of the wedding ceremony.
4. FANCY PRE-WEDDING SHOOTS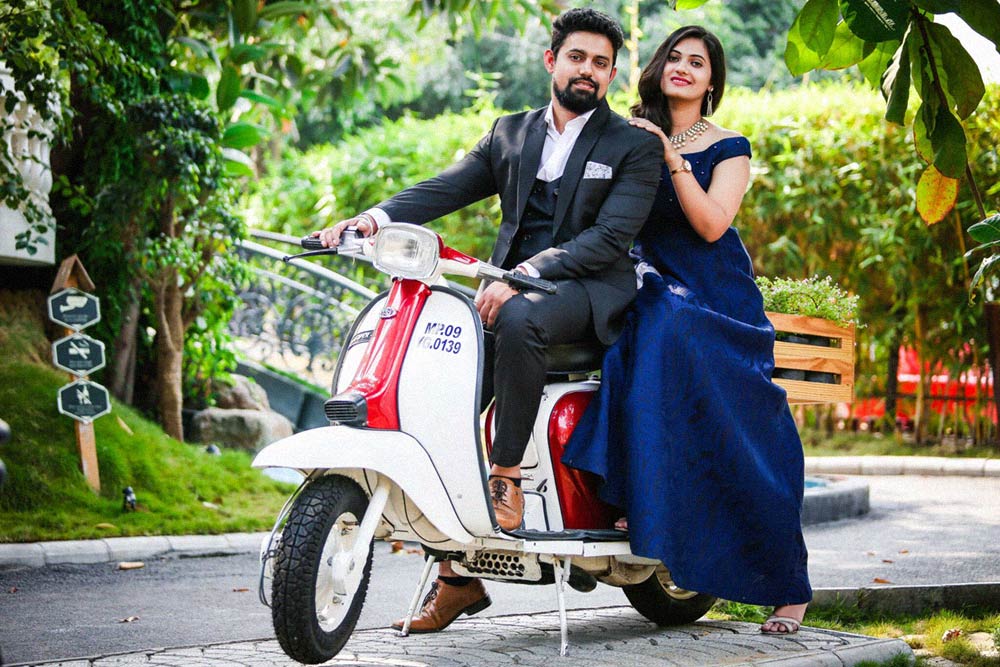 With destination weddings leading the troop of fancy weddings, fancy pre-wedding shoots are a must too. The brides and bridegrooms select exotic locations for unique photo shoots which are a unique experience in itself.
5. DELIGHTFUL FATHER-DAUGHTER CLICKS
Father-daughter click is a unique trend. Father-daughter clicks are taken before the wedding ceremony begins. The most common pose for the same is both the bride and her father hugging and smiling at each other through tears.
6. NATURAL LIGHTING IS THE TREND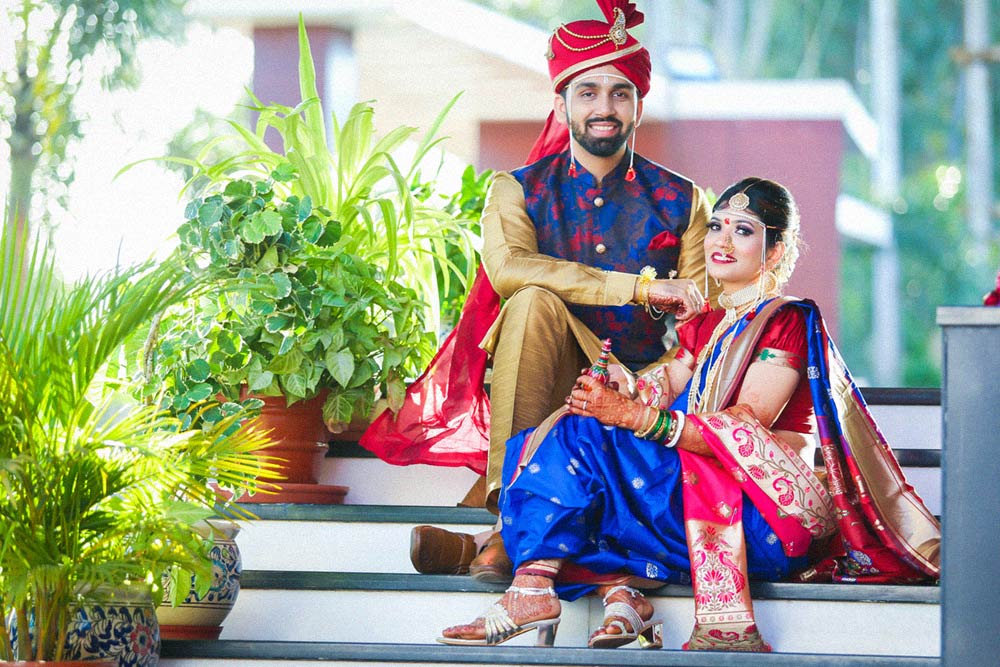 When photography was not appreciated as highly as it is now, it didn't matter what kind of lighting was employed. However, since that photography is so important in the twenty-first century, the type of lighting employed is also very important. The best lighting for this is mild natural lighting at dawn. Bridal shoots in soft natural lighting look especially gorgeous. With sunlight softly meeting the bride's gown (or her lehenga) to create a beautiful blend of splendid white (or red) and gold, pictures with natural lighting are definitely gonna be your favorites in your wedding album. A well-planned angle and beautiful natural lighting will be the most sought-after in 2022 wedding photography.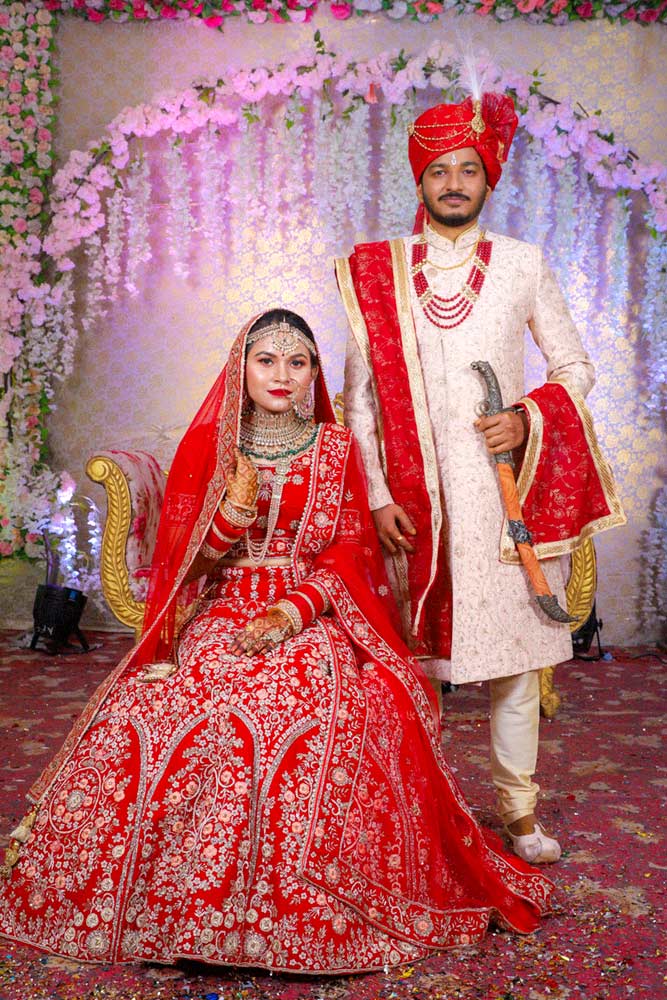 This is one of the most unique trends that 2022 wedding photography has seen. The pictures are only taken either before or during the function in traditional weddings. However, 2022 has seen a rise in Post Wedding Shoots. These photographs are taken after all the wedding functions have ended. The bride and bridegroom often sport a weary expression which shows how tired the wedding planning and functions made them. Post-wedding photographs are 100 percent genuine, and they should be made more widely available. No one talks about how tired a couple is after their wedding, but this needs attention too. These pictures are also significant and will show how much hard work a wedding takes. Moments like these are beautiful and should be cherished too. Ironically, these are the real masterpieces of the wedding album. These post-wedding shoots are just as important as pre-wedding shoots.
8. CANDID SHOTS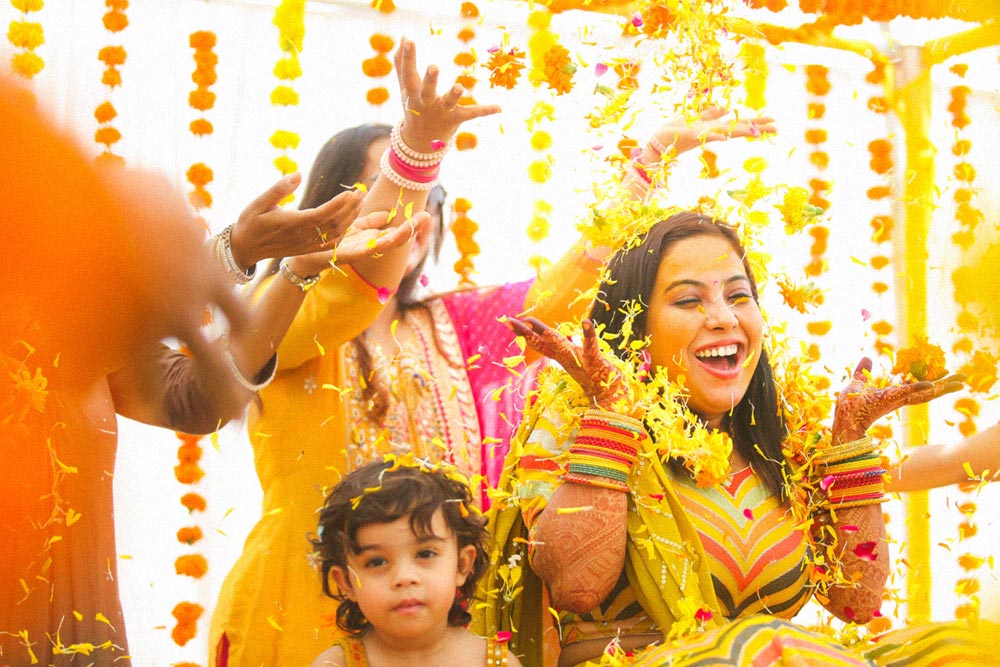 Not only weddings but for any occasion, in general, is incomplete without a few candid shots, to say the least. Candid photography is a beautiful trend that has become a part of 2022 wedding photography. Candid shots of not only the brides and the bridegrooms, but also their family, friends, and relatives are now an integral part of any wedding album; whether it be a digital or a physical album. Candid shots are always more treasured than portraits because candid shots portray the perfect amount of rawness and honesty needed in a pic. When looking back at wedding albums, one will always find a lovely memory or a story attached to these candid shots.
9. SPECIAL SELFIES
2022 has seen one of the most unique wedding photography trends and the next one just adds to it. Brides and bridegrooms usually plan to have their wedding photos taken instead of taking them themselves. However, 2022 is an exception. Nowadays, selfies during and before ceremonies are especially popular among the brides and bridegrooms of 2022. The selfies come across as elegant, lovely, candid, and even quirky to some. One cannot deny that selfies add a personalized touch to one's wedding and will create mesmerizing memories the same. Connecting back to the 1st trend, these selfies are also aesthetic and Instagram-worthy.
Drones were only employed to film videos in the past. However, the brides and bridegrooms have assigned a new function of taking stunning photos of weddings to drones. Drone covers wide angles from a larger height which enhances not only the quality but also the feel of the picture taken. Drones indirectly add a luxurious feel to the pictures and look more attractive, and it is the latest wedding photography trends in Indore. Connecting to the 4th trend of 2022 wedding photography, drones also take fancy pre-wedding clicks. Keeping this in mind, we find that drones are better than DSLR cameras since they cover a wider field of view and capture more aesthetic pictures.
11. CAPTURING FIRST LOOKS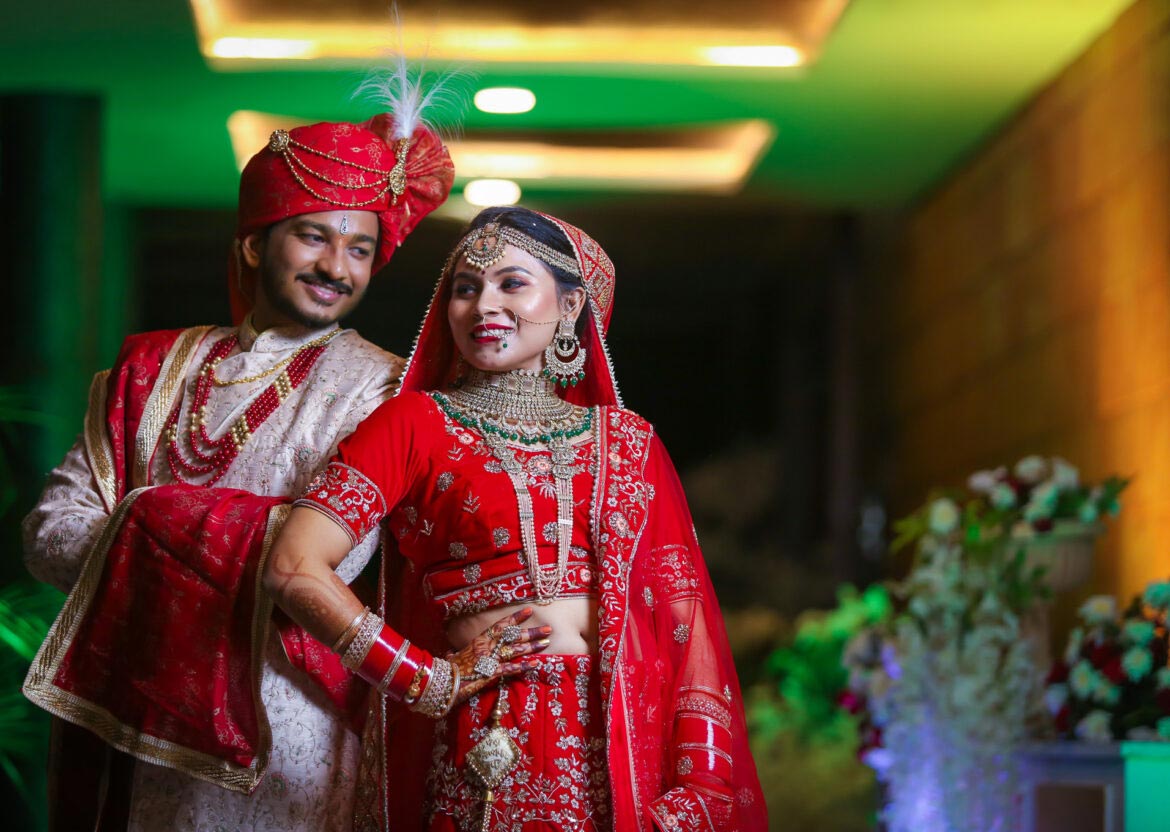 Reaction videos are especially popular on YouTube. This trend has surprisingly entered the list of 2022 wedding photography trends as well, albeit with a twist. Instead of videos, the photographer snaps the bride's and bridegroom's first reaction to each other's wedding outfits. This is another unique concept that enhances the wedding album. The couple's reaction spans from wow's to eyes wide and mouth agape with shock. This trend doesn't stop at just the couple's reaction sometimes it also includes their families too. A recently popular trend included the bride's father's reaction to her wedding dress. The bride's father cried after seeing her dress for the first time. Let's just hope it was because of the wedding and not because of the wedding dress.
12. CHAMPAGNE TOWERS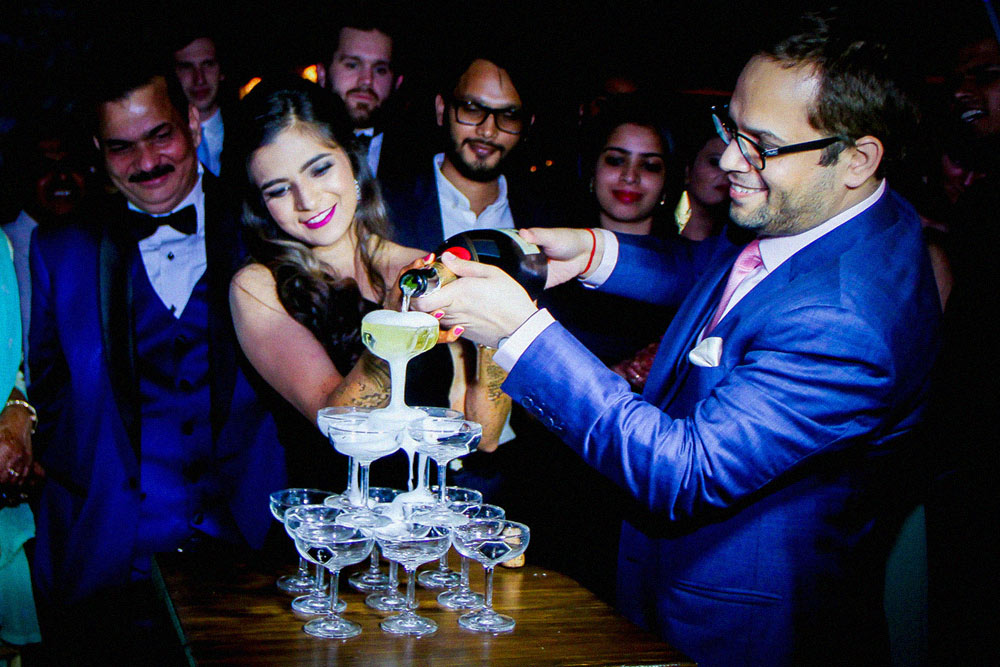 Aesthetic weddings are THE standard, and what better aesthetic than champagne towers? Champagne towers are aesthetic components of a photograph and would look good in any case. Pictures of a perfect champagne tower look just as aesthetic as when a chair is thrown to break it down. The transparent color of the glasses and the gold tone of the champagne bring together a warm hue which in turn enhances these colors. Pictures while making the champagne tower look aesthetic too, and this correlates to the 8th trend- candid shots.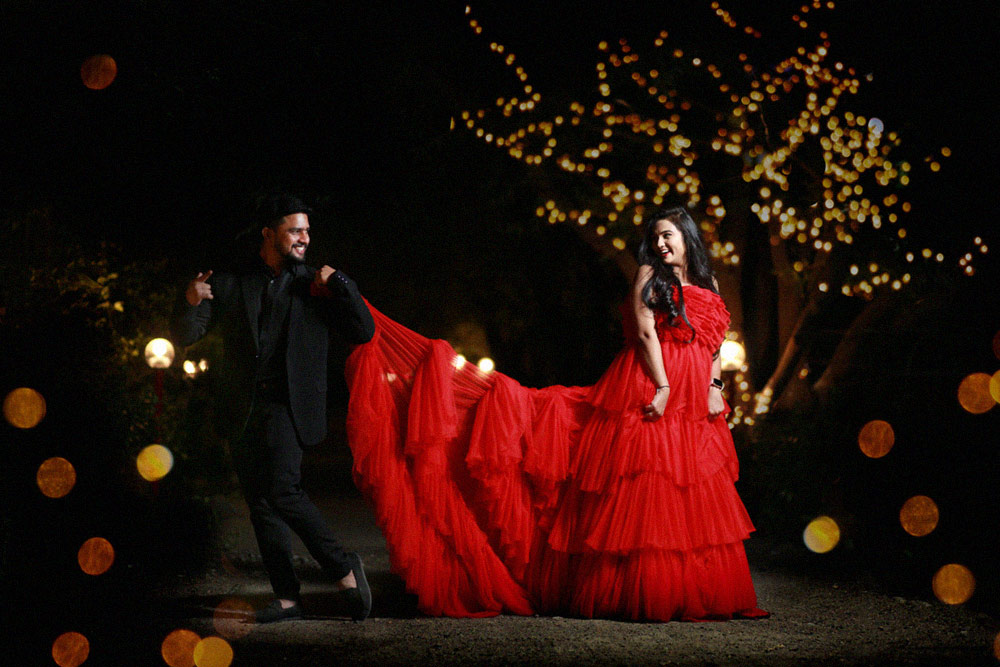 Traditional wedding photography took place only in the daytime. However, contemporary wedding photography includes equally good photos clicked at night. Photos taken during the night showcase a classy and luxurious style that suits the bride and bridegroom. Their white wedding outfits contrast with the dark shade of the night sky, which looks aesthetic and Instagram-worthy. Flash is the real scene-stealer in nighttime portraits and creates a 3-dimensional vibe.
14. MINIMALIST STYLE
Last but definitely not least, minimalist wedding photography is everyone's go-to in 2022. Minimalist photography is one of the easiest ways to photograph and capture special moments. The main focus is on the subject rather than the location and the background. Minimalist photography works on the idea that "less is more".
This brings us to the end of the 2022 wedding photography trends in Indore. Photography trends these days are lavish, as well as minimalist and modern, as well as classic. 2022 wedding photography trends offer something to each one of us and are very diverse. They romanticize and glorify weddings. Photography is the main focus of weddings and captures beautiful moments in the present. If you are someone who is already married, these splendid wedding photography trends will make you want to marry your spouse all over again.